T-SHIRTS
We have gotten many requests for T-shirts with the "King of Kings and Lord of Lords" artwork on them
and although many years ago we used to sell them,we no longer stock or sell t-shirts.
BUT…
Currently we have licensed following company to print t-shirts using thisartwork.
We do not sell them here on our website. However, you can click on the link below to go to the site where the shirts can be ordered.
KINGDOM & WILL sells this beautiful shirt and you can go to their website for
information and ordering from them. This one is $28.00
https://kingdomandwill.com/collections/luxury-comfort-tees/products/apocalypse-t-shirt-black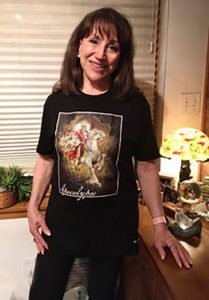 Pat Marvenko Smith wearing a sample
SHIPPING
Shipping provided by USPS.
All orders require 1-2 business days of processing time prior to shipping.
MEET THE ARTIST
Meet the Artist Pat Marvenko Smith
Pat Marvenko Smith is a free-lance commercial illustrator and designer. She has done artwork professionally all of her adult life. She has done various types of artwork for publishers, businesses, ad agencies and ministries in the United States and Canada.
MEET THE ARTIST
Multiple Payment Options
We accept many payment options.
We accept MasterCard, VISA, Discover, AMEX, PayPal and e-checks
HAVE A QUESTION?
Email us!
Part of being a great company means we provide quick and helpful support to questions about products and ordering.
Email Us